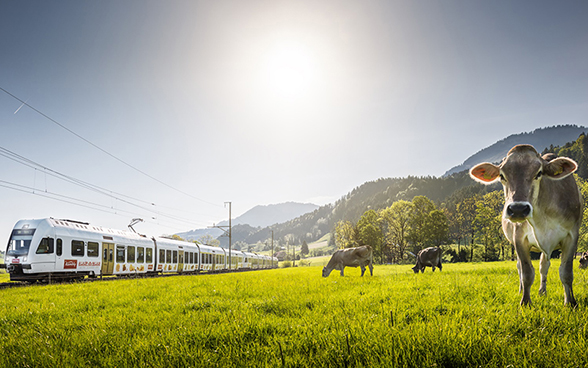 The Swiss population and government consider environmental and climate protection to be very important issues. Public transport and rail freight transport play a central role here, as they make it possible to transport goods in a way that minimises environmental harm and to provide climate-friendly mobility solutions.
Rail transport is electric – much of it for more than 100 years – and bus and ship transport are relying less and less on fossil fuels as well. The Federal Office of Transport (FOT) ensures that public transport and rail freight transport support Switzerland's environmental, climate and energy-policy objectives. Public transport, and rail transport in particular, is considered environmentally friendly – but there is still significant room for improvement with respect to noise abatement, air quality, climate, energy, and the protection of the countryside and biodiversity. The FOT supports this work through its Energy Strategy for Public Transport (ESPT) 2050 and takes various steps to ensure that public transport and rail freight transport adhere to the strict environmental regulations that are in place:
The FOT engages in preventive activities, working with the Federal Office for the Environment and the cantons to ensure that transport companies strictly comply with the regulations issued for the protection of the environment and the special standards that apply to the transport of dangerous goods. The FOT also carries out audits and operating inspections in these areas.
At international level the FOT works for the continual improvement of regulations relating to the transport of dangerous goods.
Using current data and population estimates, the FOT regularly assesses the risks that the transport of dangerous goods (e.g. heating oil or gases) by rail presents to the population and the environment.
At various types of facilities including railway yards, railway workshops and waste sites, the ground has become polluted over the years, in some cases severely. FOT environment experts see that these polluted sites are recorded and assess for the risks they pose to the environment. In cases where the limit values defined in the Contaminated Sites Ordinance are exceeded, measures must be taken to protect the environment. These measures may also include decontamination works.